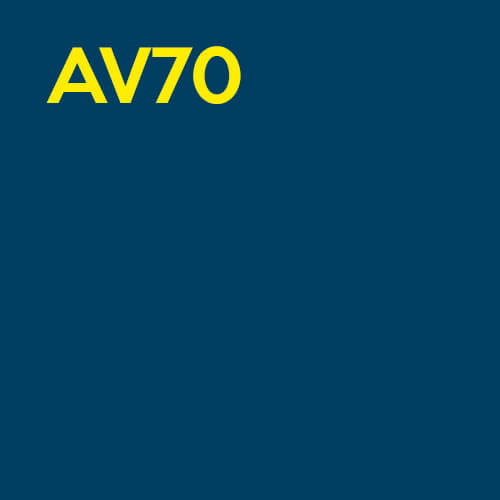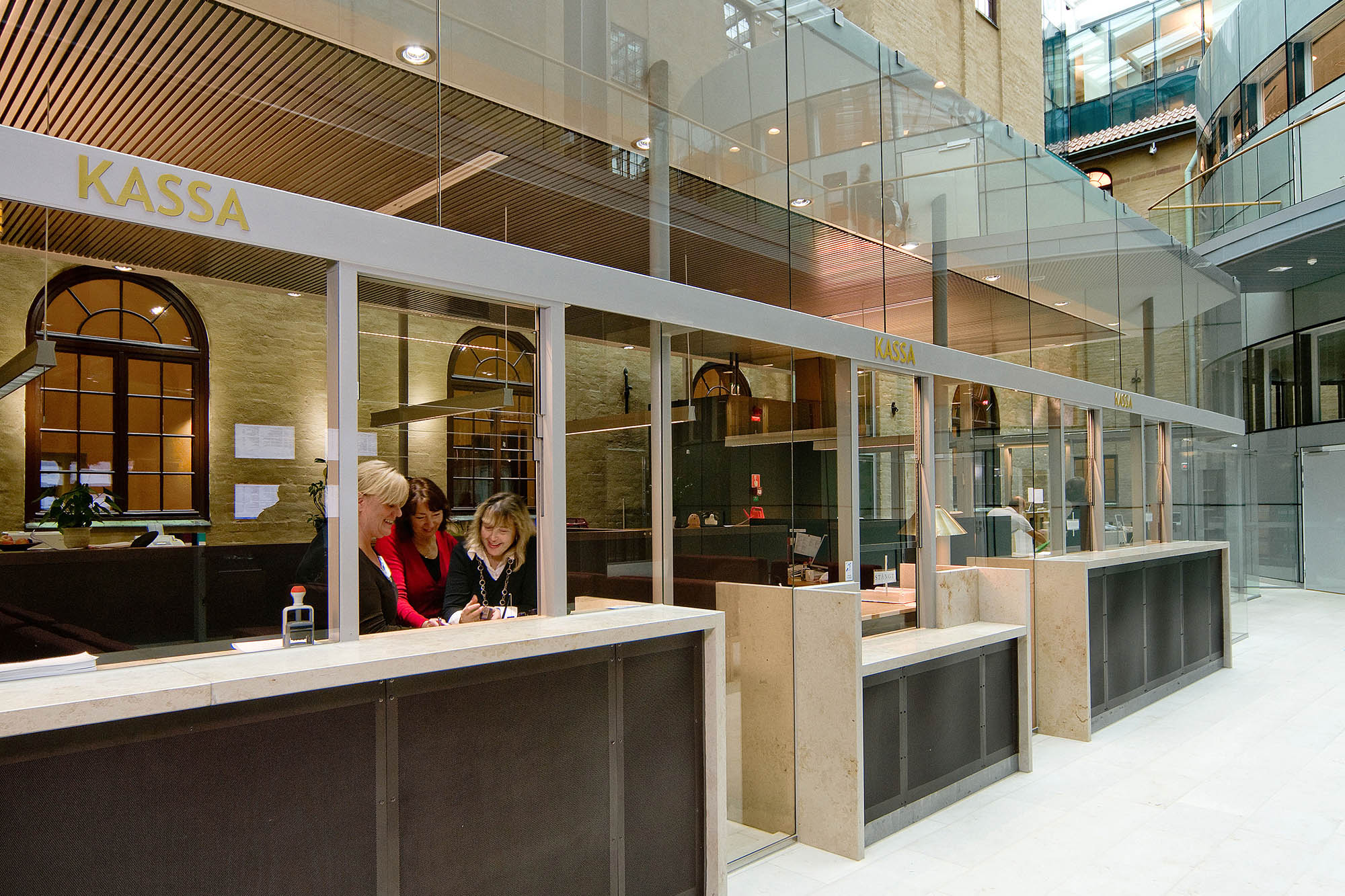 Vertically sliding, electrically operated window in aluminium – adapted to suit the increased security demands in public spaces while still retaining slim profiles. The standard version is satin anodized and fitted with 6 mm float glass. Alternatively, if a higher security level is required, 8.76mm laminated P2A, or 14mm P6B, vandal and attack resistant glass can be specified, or double glazing for external installations.
Polished glass edges give an elegant and aesthetically pleasing appearance where there are no specific safety or sound reduction requirements. By removing glazing bars and polishing the exposed glass edge, you avoid blocking eye contact between staff and customer when the fixed and moving glass meet right in the sight line. Always choose laminated glass for polished edge glazing.
Model AV70 can be produced with one or two sliding sections to maximize the free opening size. The frame can be finished by powder coating or stainless steel cladding. The sliding window is equipped with an anti-fall device and it is automatically locked in the closed position. Operation is by control switch with hold-to-run buttons.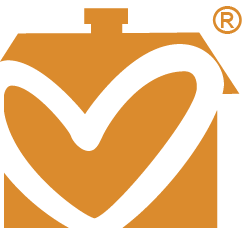 Show environmental assessment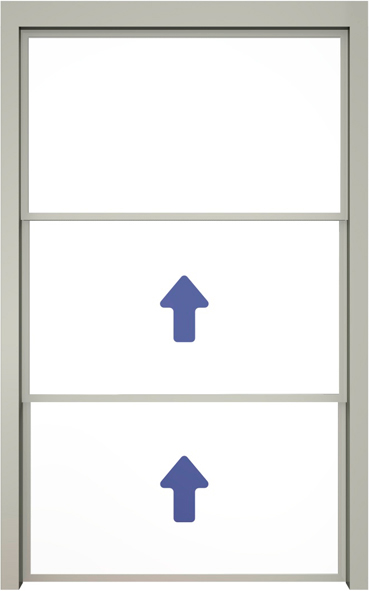 With two sliding sections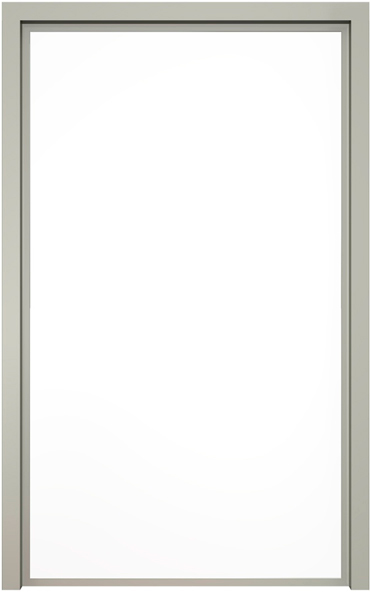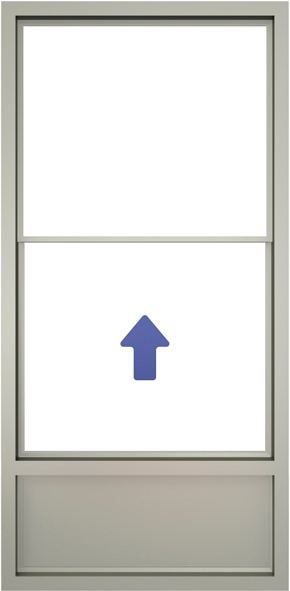 One sliding section and fixed aluminium section below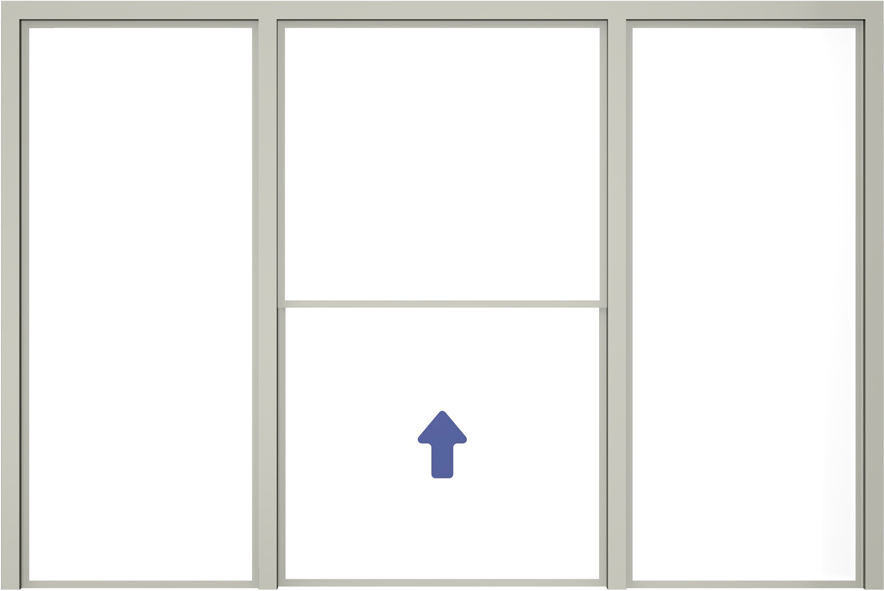 Two sliding sections and fixed light on each side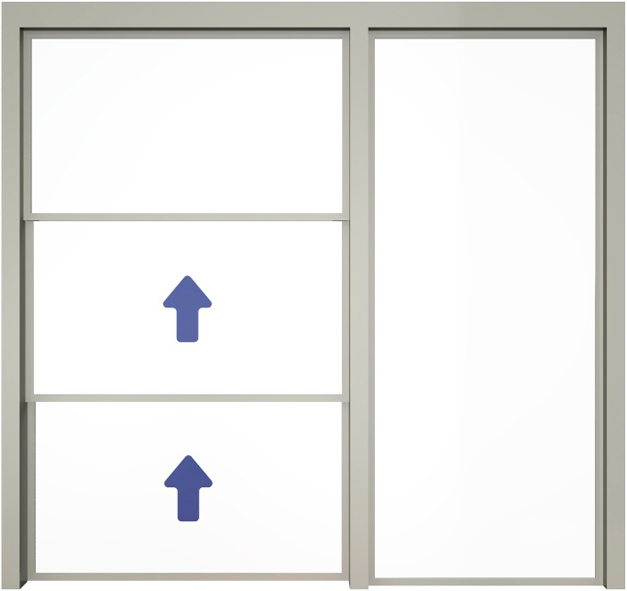 Two sliding sections and fixed light to the right 
>> TECHNICAL SPECIFICATION
Customers choice*
*Max / Min size (W x H) depends on specification (2-pane or 3-pane), the glass weight and the ratio between width and height. Guideline for the maximum width is 1200 mm (2-pane, 6 mm glass) and 900 mm (3-pane, 6 mm glass). Beyond that, we recommend model AV90 or AV115.
70 mm with one sliding section.
90 mm with two sliding sections (up to 9,5 mm glass)
50 mm (2-pane)
70 mm (3-pane)
Width/Height of glass frames
20 mm (up to 9,5 mm glass)
30 mm (up to 20 mm glass)
Options: horizontal glass edges without glazing bars.
Motor, transmission, anti-fall device and automatic locking are integrated within the frame.
Automatically locked in closed position.
Options: interval locking, key lock.
230V AC transformer.
Option: Battery backup.
S3 control system with soft start/stop and hold-to-run buttons as standard. Adjustable speed, one-touch buttons, alarm closing and various control switches are available as options.
6 mm float glass is standard. Other glass up to 20 mm thick is available as an option, such as 8.38 mm laminated glass, 8.76 mm class P2A, 9 mm, sound reduction glass, 14 mm class P6B or 4-12-4 double glazing .
Options: polished glass edges.
Satin anodized aluminium is standard. Other surface coatings available as an option are powder coating or stainless steel cladding.
According to the Machine directive and EMC directive.
Design and material are subject to change without prior notice.